Hi,
I have been collecting the Wisden Cricketers Almanack for a few years now (since early 2000s in Ernest) and have enjoyed every minute of it, so much so I thought I would put a webpage together to share my experiences and to help out anyone who has any questions or is looking to start a Wisden collection or even just chat about them. I completed my set on 11th Sept 2010 and have now embarked on reading the set cover to cover (for the ones I have covers!) , I wrote this in 2005 and it was the first guide published on the internet and it is updated regularly and now available on our App to. (www.iwisden.com)
Free Wisden Advice from the team that helped Wisden with the new Guide. ( Click Here ) Buy The Wisden Collector's Guide (via Amazon, 5% goes to Wisdens.org)
I think the first thing to point out is that I am not a Wisden dealer by trade, I fell into that as part of setting up this information site and helping the readers by placing the "I wants" with the "I've gots". I work in IT for a living but I do buy and sell Wisdens but my collection always takes priority, it is never stock. I usually buy runs and sell the duplicates I accumulate or if I see a nice book that isn't too pricey at auction, Ill buy it and swap it for the one on my bookcase and sell on the other book, trying to perfect my collection which can be viewed on this site (Many Wisden Dealers are Collectors too according to their sites, but you will struggle to see their sets). Since I wrote this guide in 2005, such kind people have offered me several books to sell and hence I have put together the odd catalogue to place one spare Wisden with a collector who has a gap, fortunately as mark-up is not an issue (9.09% - which goes to fund this website, Wisdens are not a money making tool for us) the prices are nice and low and it has worked well, some books were wanted by more than one collector (and there was a bun fight occasionally for the rare ones) so I set up www.wisdenauction.com so the collectors could battle it out, my mission for this site is to place books with collectors and not generate revenue, hence being an auction site without a buyers commission, anyway...
Another reason for this site existing is that I have had a few scary experiences along the way in building my set, usually when it comes to prices and I have paid over the odds at times as I was not aware of the market value of a certain book. Our Wisden Valuations page may help you decide what to pay for a book.
When I started collecting, I was trying to collect back to 1976, my birth year, I'm an avid fan and statistician so the books are ideal for me but after collecting back to 1976 a family member sent me a 1950 Hardback as a present and so I had to go back to 50, I'm was gap free back to 1876 - Not 1976!! until my final purchase in September 2010.

Strategies : If I was to offer 1 piece of advice to a new collector, it would be to choose your strategy carefully, i.e. to collect any version of the book (soft back, hard back, rebind) for each year or just to go all out for hardbacks (with DJs from 65) as I ended up being far too pedantic for my own good and ended up changing from strategy 1 to 2 after owning 1950 to date and decided to upgrade from the random linens I owned to all hardbacks (then to DJs!) which cost me a fortune, if you don't mind a yellow book then a brown book then a red rebind sat next to each other, the cheapest way is strategy 1. I was terrible, my books where all are all over the place! I would also strongly prompt that if you are buying hardbacks, buy them with a Dust Jacket (after 1965), but watch out for facsimile ones. (These are Black and yellow and not colourful, if in doubt , view our collection to see what they should look like). If you see hardback, make sure it is an original hardback and not a book rebound in hardboards.
Some facts I've picked up over the years that may help you out:
Issue 1 was 1864 - 1875 is by far the the rarest - Hardbacks started in 1896 - Linen (rather than paper) backs started in 1938 - Bat book marks were present in the paperbacks from 1933 to 1939 - Dust Jackets started in 1965 with 65 to 72 being pretty rare - 1916-1919 and 1938-1946 are rare due to the wars -1963 (100th edition) has tonnes of good stuff in it (page 82) about how many books have been printed and their styles etc.
WISDEN Glossary :
Australian Wisdens : From 1998 , for 8 years, an Australian Wisden was produced, it was like the UK version but in Green, there was also a limited edition leather set too.
Bat Bookmarks : Between 1933 and 1939 Wisden issued a small bookmark tied to the book with string, it was only issued in the softback but was the shape of a bat , the handle does tend to be missing but the string is attached to the same place in each Wisden.
"Benno Standard" : Brian Freed who was a forum member (he had a dog called Benno which was his user name) had to have a Wisden as close to mint as possible, hence the term Benno Standard. Brian died having a hernia operation in March 2009 and so the phrase will always be remembered.
Boards : Usually short for Hard Boards. There are two prominent meanings for Boards, either the outermost casing of a rebind (these can come in various colours and designs, some with letters some without, depends on what the binder/collector chose at the time) , it is also the word for the brown outsides of an original hardback, these have two forms, pre & post 1938, both have gilt to the front and spine. (See rebinds, Original Hardbacks, Gilt)
Bowing : Mainly in the softbacks, the spine can warp over time, 1940 & 1963 are the prime candidate for this, looking down on the book, the best copies have a straight spine (a rectangle is seen when looking down on the book) , the worst copies are badly bowed and have a spine like a ( or )
Covers : For Rebinds and Softbacks, they are the outside of the original book published by Wisden, also known as wrappers. The outside of an Original Hardback is sometimes know as cloth covers
Dust Jacket (DJ) : In 1965 Wisden issued a paper wrap around to all of its hardbacks, this is the dust jacket. They are yellow. From 1965 to 1978 they have multi coloured text. From 1994 they are laminated. Facsimile DJs are also available but are just yellow and black (and state that they are facsimile on them).
Ex-Library : A lot of Wisdens have been housed in a library, some do take a bit of a beating and it can mean the book is well read, have stamps inside and also a book plate from the library , they can be removed but either way they tend to hold less value than an equivalent non library Wisden.
Facsimiles: There are 3 copies of the 1864-1878 (usually in a set & presentation case), Billings & Sons Ltd printed a paperback set in 1960 then Lowe & Brydone printed a similar set in 1974, finally Wisden produced a facsimile set (now rebound looking not paperbacks) in 1990. (See Willows)
Facsimile Spines: When an Original Paperback Wisden has fallen apart due to age or to cosmetically touch up a Wisden, a facsimile spine can be added to replace the original spine, these spines look the same but strengthen the book so that it can be easily read or look a bit more uniform on the shelf. The modern day equivalent of using a few strips of clear tape. (See Original Paperback)
Foxing : Foxing is one of the most talked about definitions, it tends to be small (Brown?) spots within a book, usually caused by a chemical reaction over time, hence the photoplate and tissue paper are impacted the most from the chemicals in the photography procedure. It can be more than spots in sever cases , large blocks of pages can be darkened.
Gilt : Gilt is another word for Lettering, it comes from the phrase gilding, the tiny amount of metal that is gilded onto the books. For 1896 to 1932 it was gold leaf, 1933 to 1937 it was copper plate (hence they fade badly) , 1938+ it was more coloured in with gold looking paint but Gilt is used for lettering in the more general sense. Beware that some books may have had this redone in recent times usually to the years 1933 to 1946. (See Re-gilding)
Hardbacks : Hardbacks have been used to refer to rebound books in hardboards but the more genuine meaning of this is Original Hardback, there is nothing more of a let down than to receive and email saying I have 1930-1939 in Hardback to find they are rebound Wisdens! (See Original Hardbacks, Rebinds).
Hinges : On an Original Hardback, just like with a door , the boards are attached to the main book with a hinge, in certain years, these tend to be weaker than others (1903 being the worst) , a nice test of their strength is to lay the book on the desk and open the front board to 180 degrees and release it, the best hinges will spring back and close the book, a good hinge will hold its own at 180 degress, but a weak hinge will allow the board to fall to the desk and not support itself. Worst still the hinge may be split, if so you will see gauze or webbing exposed , the biggest extreme is when te boards are coming away from the pages. Hinges are mentioned to a lesser extend in a rebind & softbacks but in poor copies it may state that they have broken hinges.
Leathers : In 1995 , Wisden issued a Limited Edition Wisden, it came in a slip case was numbered and limited to 100 and was bound in red leather and signed by the editor, in 1996 (to date) 150 were issued, the first 5 go to the cricketers of the year and have their name on the front of them, Wisden allow you to keep you number going forward if you subscribe to them. Leather can also be mentioned when talking about a rebound Wisden, the replacement or New boards are sometimes in leather.
Lettering : See Gilt.
Linens : Also known as Linen Cloth Covers (or Softbacks) , in 1938 Wisden changed the format of the Wisden and they replaced the Paper covers with Linen Cloth Covers, hence the formats available from Wisden in 1938 were Linen Cloth Covers and Original Hardbacks (See Paperbacks , Softbacks).
Original Hardbacks : One of the two forms of Wisdens produced off the printing press at Wisden, they come off the presses in Original Paperback (Linen Cloth 1938+) and Original Hardback, the latter are brown with two main styles, before 1938 they had gilt running vertically down the spine , YEAR. WISDEN'S CRICKETERS' ALMANACK. YEAR. from 1938 the gilt runs horizontally to the top of the spine. WISDEN CRICKETERS ALMANACK YEAR" – some variations exist. To the front, the modern day are similar to the spine (with the edition to the bottom) , the pre 1938 Wisdens have the text centrally to the front board
JOHN WISDEN'S CRICKETERS' ALMANACK For YEAR." With edition to the top and the publishers details to the bottom. Original Hardbacks pre 1938 have distinctive Yellow pastedowns to the inside page and the opposite page and also to the last page and inside rear cover, Hardbacks are considerably more sought after (hence more valuable) than paperbacks, even though they started in 1896 (not 1864). The hardbacks were issues with a Dust Jacket in 1965. Not to be confused with a Hardboard Rebind (See Lettering/Gilt, Pastedowns , Dust Jacket, Paperbacks, Linens, Rebinds).
Original Wrappers : Another term used for Paperback (See Paperback)
Pageblock : The Pageblock is the name for the 3 sides of the Wisden other than the spine, where the internal paper ends, it is usually nice and white but in some years (like the early 1980s and late 40s) it does "brown".
Paperbacks : Paperbacks are the original style of Wisden. They tend to be called just Paperbacks rather than Original Paperbacks and are also know as Softbacks, they are Wisdens printed on paper (covers and insides) and issued by Wisden from 1864 to 1937, this format became a Linen Cloth Cover in 1938. Hence the paperback was the only style Wisden sold from 1864 to 1895 (See Softbacks , Linens).
Pastedowns : When you open up an original hardback from 1896 to 1937 the inside of the boards (front and back) are yellow (as is the opposite page), these yellow pages are know as paste downs (1 word or 2?) as the inside of the boards looks like this is how it was created.
Photoplate : In 1889 Wisden issued a photograph within the book, it was a full page and accompanied with some tissue paper opposite, apart from in 1916 & 1917 it is in every year and the tissue paper stopped in 1918 where it became more modern. When Wisden changed the format in 1938, more photos appeared in the good book.
Publisher Rebinds : Wisden themselves sometimes did the binding for Customers, they had their own unique boards and rebinds in this form are said to be Publishers Rebinds. The have lettering to the spine and front, similar to the old style hardbacks, the year can be a different shade as Wisden added this at a later date. Some rebounds have been found to have near perfect hardback boards. Some have covers some do not. (See Rebinds)
Rebinds : When a wisden has fallen apart due to age, one remedy to this is to strengthen it by replacing the old spine with a new one , the old fashioned way was to encase the whole outside of the book in new hard boards (a new remedy is to apply a facsimile spine) , rebinds were also used to make a collection more uniform, a lot of sets that come to auction are uniformly rebound, the taste of some collectors was/is to have all the books looking the same and as originals themselves can even look different (or just hard to find) a collector could instruct a binder to apply the same boards and style to every wisden they owned. Ongoing maintenance to this can be troublesome but some sets come with "future bindings" , I think 2020 was the furthest into the future I have seen. (See Facsimile Spines, Rebinds with Original Wrappers, Rebinds without Original Wrappers, publishers rebinds)
Rebinds with Original Wrappers/Covers : This is a rebind that is complete, it is an original paperback with new boards added to it to keep it together. The perfect rebound set will be of this style. (See Rebinds)
Rebinds without Original Wrappers/Covers : This is a rebind that the binder decided to replace the original wrappers with their own boards, (I guess they thought they were putting "new" covers on them) hence they are not complete, sometimes the adverts are also missing (I guess some aristocracy didn't like to see them within their Wisdens) , these are certainly the cheapest way to but an original for the year in question. (See Rebinds)
Set : A set can be 2 Wisdens, I guess, but what defines a full set of Wisdens? Are facsimiles allowed? To an extreme are rebinds? The Perfect Set is described as Paperbacks (100% original, including their spines) from 1864 to 1895 , then Original Hardbacks form 1896 onwards. This would set(!) you back over a quarter of a million pounds. Another set though, with facsimiles as the first 15 and rebinds (without covers/ads) could be put together for a 20th of this price. Hence a set can come in many guises.
Softbacks : A collective term for Paperbacks & Linens , the floppier form of the Wisden (i.e. not Original Hardback or Rebound). (See Paperbacks , Linens).
Willows : Willows have produced facsimile Wisdens over the years, they have pretty much copies all of the rare years (we just sent them a 1938 & 39 in Hardback to help produce theirs) , they have reprinted paperbacks and hardbacks and soon will have every year from 1879 to 1945.
Wrappers : See Covers.
In the 1963 Edition there is a breakdown of page numbers, Dom has kindly updated this post 1963 , 2008 was the year Wisden broke 100,000 pages which seemed to go unnoticed!.
The Rare Ones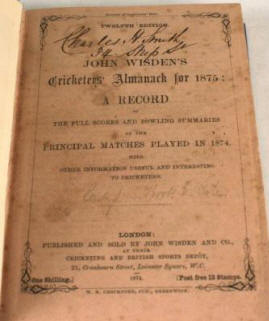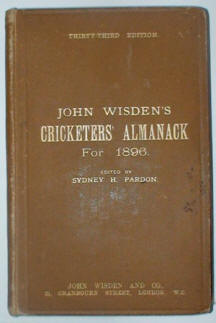 The most important part about collecting are knowing which books are rare, wisden lost all its publication numbers before 1938 in a fire in WW2 so some of the numbers are unknown, but just by watching the market for long enough you can tell which books are the rare editions.
Surprisingly, the rarest book is the 1875 paperback (rumour has it wisden was going bankrupt at the time) as apposed to the first edition which is believed to be the second rarest paperback, 1869 is also pretty rare. Another rare book is the 1896 Hardback - The First Hardback.
Other rare editions are the books that where produced in the Wars , the 1916 Hardback being the rarest 20th century book although some debate that 1919 is rarer.
The 1917-1919 & 1940 - 1945 books are known to be hard to find, especially the Hardbacks.
Unknown to myself 1969-1972 are the rarest books since 1949, it is believed the 1971 is rarer as half were produced due to the poor test cricket fixture list.
The Type of Books
The type of books are as follows : Original Paperbacks (1864 to date), Original Hardbacks (1896 to 1964), Original Hardbacks with Dust Jackets (1965 +). There are also rebound books where the spine has collapsed due to age. Rebinds come in three categories, rebound with the original covers, rebound without the covers (and sometimes adverts) and a Publishers Rebind (i.e. a book that Wisden themselves have rebound). Facsimiles exist which are reprints of the Originals (usually the rare books), be aware that facsimile Dust Jackets exist also (it states this on the back page of the DJ). Recently a Big Version has been produced and leather bound books can also be found from 1995 (100 copies) & 1996+ (150).
My Collection - SEE PICTURES OF ALL OUR BOOKS ON THE HOME PAGE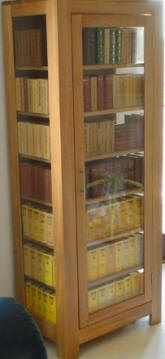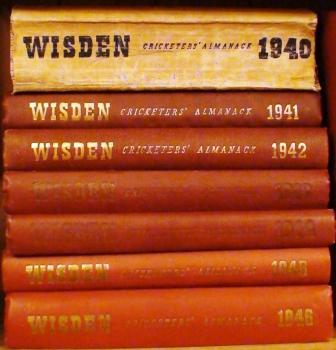 Over a few years I have built up my collection and in 2008 I sold the family silver (some Rio Tinto shares) to purchase some of the rarer books. My collection is now complete after the purchase of an 1875 in September, I did own one previously (but not an 1869 at the time) but I sold my first 1875 to fund www.WisdenAuction.com , the only time my collection has been impacted on from a selling point of view.
The next step for me is now to add to the number of original covers in my first 15 , 7 to go, then replace my 19th Century Rebinds (1866 & 1874 & 1875) with paperbacks and then to replace the books with a facsimile spine with an original spine, then finally to increase the condition of my hardback collection such as my 1897 which has a repaired hinge. The individual books within the cabinet are: 1864 Original Paperback (some touch ups) , 1865 Paperback with facsimile Spine, 1866 Rebind without covers, 1867-1872 Original Paperbacks, 1873 Paperback with facsimile spine, 1874 & 1875 Rebound without covers, 1876 Paperback (no rear cover), 1877 & 1878 Paperback with facsimile spine. 1879 to 1895 paperback with original spines. 1896-1964 Original Hardbacks - 1941 Original Hardback (signed by Hubert Preston a future editor, 1936 is also a presentation copy and my 1933 was owned by George Duckworth) - 1965 to date in Original Hardback with DJs all pristine.

Nearly there :-)
Top Ten Tips from our forum..
1) Strategy is ever so important. There are several strategies about for example buy the best condition one that you can and try to obtain or buy either hardbacks (back to a certain set year) or all softbacks. Mix and - if you don't mind a yellow book then a brown book then a red rebind sat next to each other, it is after all the cheapest way.

2) Don't buy a Hardback post 1965 without a Dust Wrapper – you'll only end up buying the original one day in the future and then have a spare that no one wants! Especially after 1978. PS Watch out for fake wrappers too - try and buy originals if possible.

3) Find a mentor to help you out– even if it is this forum.

4) Know the price and the rarity of the book you are buying. A 1970 is rare but not as rare as a 1940 which is not as rare as an 1875!

5) For post WW2 don't pay too much as another will be along soon.

6) Read them

7) Don't panic and try to buy too many too quick as you may overspend on poor quality ones.

8) Whilst you want best quality, If you can't wait long, settle for the best you can buy as you can always upgrade later and sell your spares.

9) Learn which dealers you should use and those you should avoid!!

10) Know the standard defects of each year, the 1948 Hardback is a hard book to find mint due to the poor quality materials used after the war – so you may have to settle for a little more rustic copy.

Lots more advice is available, please visit www.wisdenclub.com

WISDENS.ORG SISTER SITES: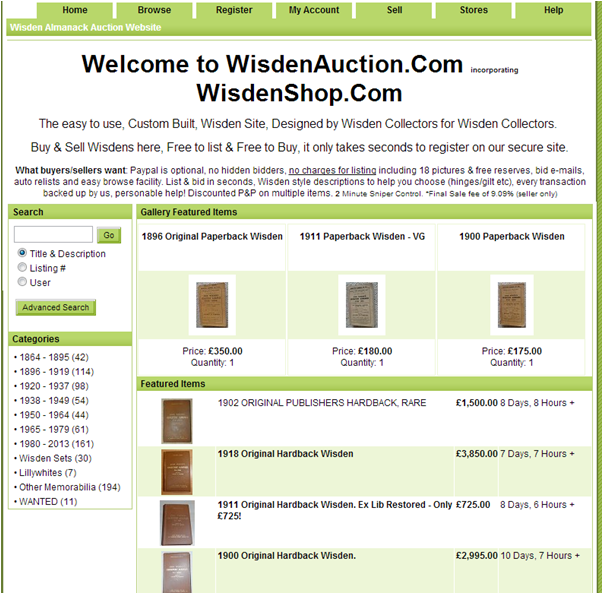 The easy to use, Custom Built, Wisden Site, Designed by Wisden Collectors for Wisden Collectors.
WisdenAuction.Com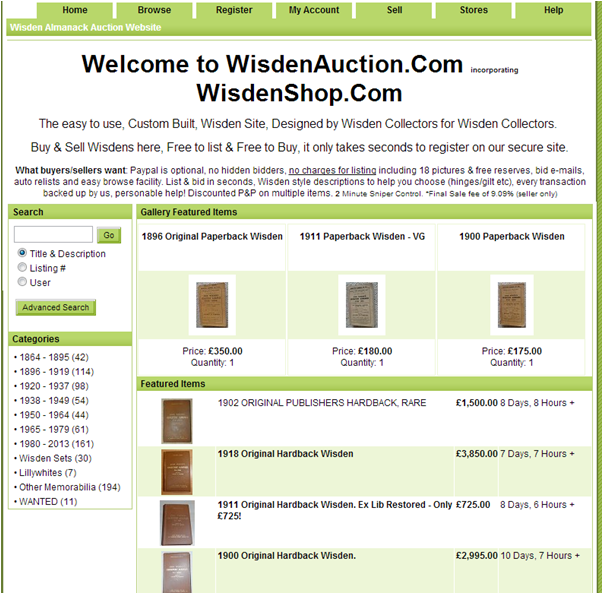 Fancy a chat about Wisden,Cricket or just to meet fellow collectors, join the free Wisden Forum(Over 18k)
WisdenClub.Com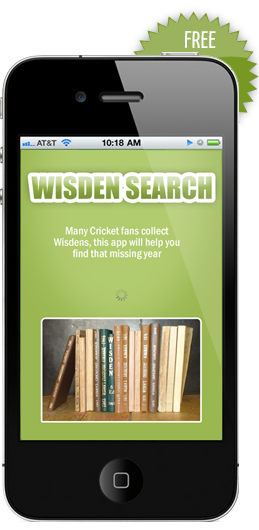 In 1864 John Wisden wrote a cricket book, many cricket fans collect these Wisdens and this "Wisden Search App"
Wisden Search App!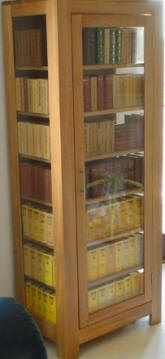 Free Wisden Advice from the team that helped Wisden with the new Guide.
Our Wisden Guide
Wisden Valuations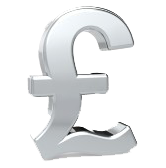 Need a valuation for your Wisden set for Insurance purposes or to sell, we have valued 100s of sets and happy to value yours.
Contact Us
FEATURED WISDEN STORES
Advertisements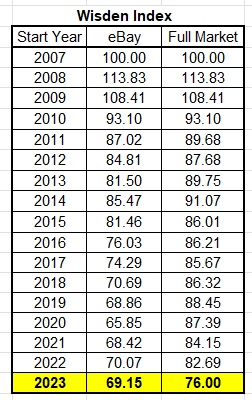 Lillywhite Guides/Companions/Annuals Info: Click Here